Seizing the pandemic renaissance
At the height of lockdowns around the world, a number of people moved to smaller cities or villages, in some cases simply to find more space, in others to move back with parents or in cheaper places. Some had the privilege of a second home, while others moved 'for good.' Such a movement happened in Italy, temporarily revitalizing some long suffering and shrinking villages. Now there are new villagers, mayors, and other politicians hoping they can use the opportunity to keep this new life around.
[T]o translate this phenomenon into a lasting post-pandemic legacy, elected leaders and grassroots organizations are taking action to improve infrastructure, rebuild community ties and push these aging villages into the 21st century as remote work becomes the new normal.
The article linked above focuses on younger returnees without specifying if that's the larger demographic making this transition or just the one drawing most attention from villages, but some of the 'tools' they are using draw inspiration from services often seen in larger cities and associated with younger workers.
Over the past six months, in cooperation with the local officials in Castelbuono, Cucco and a group of fellow returnees turned parts of historical buildings into coworking spaces. Now, when Cucco has to speak with a client in the city, she steps into what was once the cloister of an 18th-century Catholic church, now converted into an open-air conference room. […]

Enticed by the slower pace of life, Joly decided to make her move permanent after getting stuck at her holiday home in Palazzolo during the first lockdown. Through academic partnerships with the University of Geneva and the University of Catania in Sicily, she plans to use the Fab Lab to bring in experts to teach business, crafts and digital skills to locals.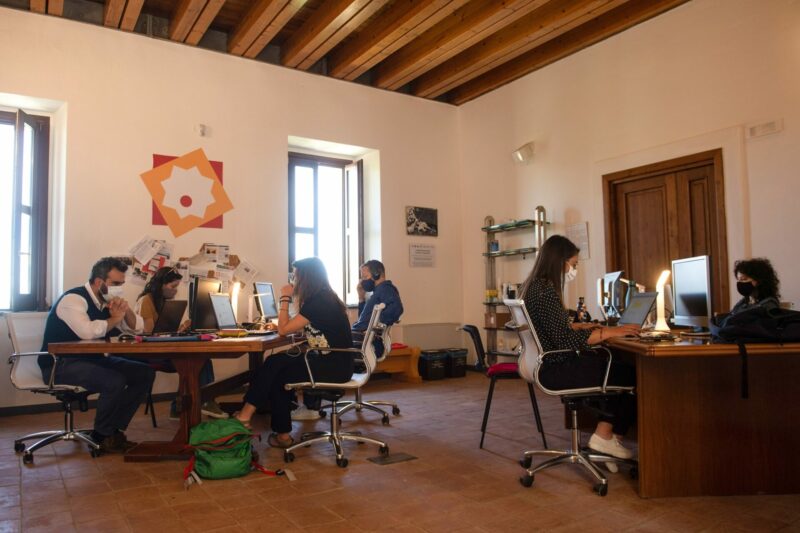 Governments are seizing the opportunity to plan infrastructure updates, including higher speed internet, and offering a variety of programs like grants to build social enterprises, monthly stipends to take up residency, and even "up to 30,000 euros for the purchase or restoration of a house."
[The office of Anna Laura Orrico, member of Italy's Parliament], selected 12 villages across the country to become experimental hubs for innovative technology in the fields of environment, sustainable transportation and culture, funded through a project called "Smarter Italy." Beginning in summer, 90 euros million will be allocated across these towns to fund diverse projects, including virtual museums and seismic monitoring.
This returnee trend has also been happening across Europe, not just in Italy.
Spain has witnessed a population surge in its hinterlands. In Romania an estimated 1.3 million citizens have moved home since the beginning of the pandemic, while in nearby Bulgaria as many as 800,000 have returned to the country's rural areas, according to the United Nations Population Fund.
A great deal of scepticism as to the longevity of these moves is certainly appropriate, but considering some of the other trends in younger workers, like more reasonable work-life balance, finding meaning in their work, more freedom, and a slower life, seem like a great fit for smaller villages.
So the question might end up being if these perks of country-side remote work outweigh the hubbub, culture, and nightlife of larger cities.